You should know about ...
WinSCAN, Version 2.0!
The Most Versatile and Powerful
Single-Switch Interface for PCs with Windows
Keeps Getting Better and Better!
The Single-Switch
Control Interface for
PCs with Windows

WinSCAN, v2.0, is an advanced, multi-function, single-switch interface for Windows, offering a flexible and powerful means of computer access for PC users rivaling those available for the Macintosh and providing new ways to access and operate independently the next generation of PowerPC and Pentium computers, new operating systems, and high-performance software in the home, at school, and on-the-job.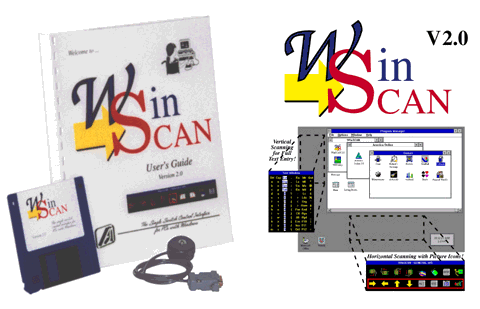 WinSCAN provides users of single-switch input devices independent control access to educational and productivity software, multimedia programs, and recreational activities that run under Windows 3.1 or Windows 95/98 on IBM and compatible PCs. You can navigate the Windows desktop; choose program icons and run application programs, games and CD's; even surf the InterNet with WinSCAN!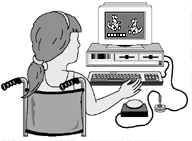 WinSCAN superimposes scanning control displays in front of application programs running under Windows on the PC. These control displays may be set up to contain words or pictures representing general functions to navigate Windows and/or specific functions to operate particular programs. The display can be set to scan at an adjustable rate vertically or horizontally and can be repositioned anywhere convenient on the PC desktop. You can create (or download) custom setups for particular programs, print them, save them on disk for re-use or further editing, link them together, or use them to start your PC automatically with WinSCAN up and running.
WinSCAN works with most external adaptive switches and the popular SS-ACCESS single-switch interface cable from ASI. The program moves an on-screen scanning selector and refreshes the display in real time while monitoring the state of the external switch. When you respond to the scan by pressing the switch, WinSCAN sends appropriate keystrokes, mouse functions, or commands to the running program. You can open program groups; select icons; run applications; switch to new setups; point and click, cut and paste, drag and drop; use function keys and combination key commands; enter numbers and text; and more with WinSCAN and your single-switch.
Version 2.0 retains simplicity and ease of use, while offering a host of powerful features:

90 built-in icons to represent scan functions for mouse and keyboard control.
Up to 20 scan positions can be defined in the main scanning display.
User-defined number of rows and columns in the display (e.g., 1x10, 4x5, 7x2, etc.).
Choice of linear (horizontal or vertical), row/column, or column/row scanning.
Several different audible tone prompt and response modes.
A variable-length "dwell" or "activation delay" function to give the user time to attend the screen to see the consequences of input.
Two different DRAG modes to meet most normal dragging requirements.
Precision controls for mouser cursor positioning and dragging operations.
Several different text entry window arrangements and options.
A "Control" special function, allowing single-switch users to adjust scan speed, drag mode, and many other program settings independently.
A WSUtility program for creating and/or editing setup files independently.
A WSUtility option to convert older setup files to WinSCAN 2.0 format.
A powerful and innovative capability to create and link associated setups for multiple programs and to switch among these setups independently.
Visit the ASI Free Download page and check out
the latest WinSCAN DEMO program.
---
Standard package includes the WinSCAN software and easy installation program on 3.5" HD disk, detailed User's Guide, and the SS-ACCESS single-switch interface cable.
(Specify 25-pin or 9-pin PC serial connector.)
$349.00 + shipping
Special package for current SS-ACCESS owners includes the WinSCAN software and User's Guide without the interface cable.

$319.00 + shipping
---

Want more details? Screen images of WinSCAN in action.


Return to the ASI home page
---
Copyright © 2001 Academic Software, Inc.
All Rights Reserved