For PCs with Windows or DOS, the answer is the ...

SS-ACCESS PC Package
A simple solution from ASI for single-function, single-switch access for the IBM and compatible personal computer family.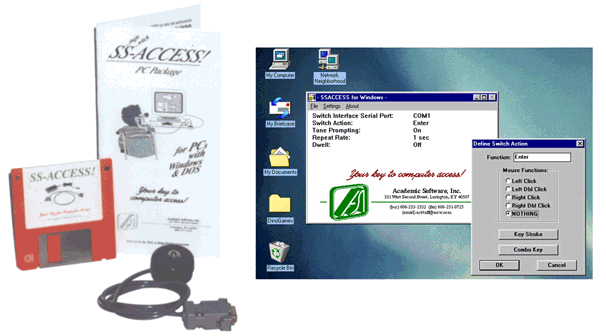 SS-ACCESS is as easy to use as ...

Plug the interface cable into your PC's serial port;
Plug your switch into the interface;
Run the Windows or DOS support software;
Run your single-switch application program.
SS-ACCESS is a single-function, single-switch interface solution for your PC and Windows 95/98 and/or MS-DOS 3.3 or higher. Easy to install, simple to use, and compatible with the widest range of computers and application programs. You choose a keystroke, function key, combination key command, or mouse click to be sent to the single-switch application program each time the user presses the switch. Adjust the repeat rate and dwell time (i.e., the activation delay) to suit the abilities of the user. SS-ACCESS is designed especially for new Windows software and older DOS programs from ASI, Edmark, Laureate Learning Systems, and other publishers who provide built-in single-switch accessibility features and scanning controls.
The SS-ACCESS PC Package has been evaluated independently and endorsed enthusiastically by the Mid-Atlantic Augmentative Communication Association (MACA) in Maryland, by the Tidewater Center in Virginia, and by many other leading assistive technology organizations.
The SS-ACCESS PC Package includes the switch interface cable, support software for Windows and DOS, SS-DEMO game, and easy-to-follow User's Guide:
(Request either a 25-pin or 9-pin PC serial port connector.)
$90.00 pkg + shipping
WinSCAN and SS-ACCESS owners who already have the switch interface cable may purchase the SS-ACCESS PC Package support software separately for:
$60.00 each + shipping
---
Want more details? Preview the SS-ACCESS User's Guide.

Return to the ASI home page
---
Copyright © 2001 Academic Software, Inc.
All Rights Reserved